I-SPY CCTV is a leading security specialist in the South West. They install CCTV packages, intruder alarms and all aspects to secure commercial and residential properties. Based in Bristol they operate throughout the West Country of England and South Wales. 
Project summary
I-SPY CCTV wanted to ensure that they maintained good SEO rankings for current keywords but also to add new geographies for CCTV to expand their market audience.
The Strategy
The  strategy was identified to perform a technical audit of the site which identified some speed optimisations and some critical crawler errors. We could then perform some keyword analysis around CCTV which allowed the geography landing pages to be optimised. The second phase was to add in their Google Ad campaigns for the locations and to ensure conversions were tracked.
Proven Results
The campaign has been highly successful in establishing I-SPY CCTV as a leading provider of security solutions to the West Country and especially CCTV for commercial and residential properties. The Google Ads campaigns were reviewed and improved at the end of 2020. During this period, we have seen the conversions increase sharply. Previously it had been 80 conversions in 3.5 years this has now changed to 80 in just 3 months with clicks also seeing a huge increase. We have reduced the campaigns from 54 to 16 and fine tuned each ad, demographic, location and keywords and switched from Targeted Campaigns to Max CPC to manage the budget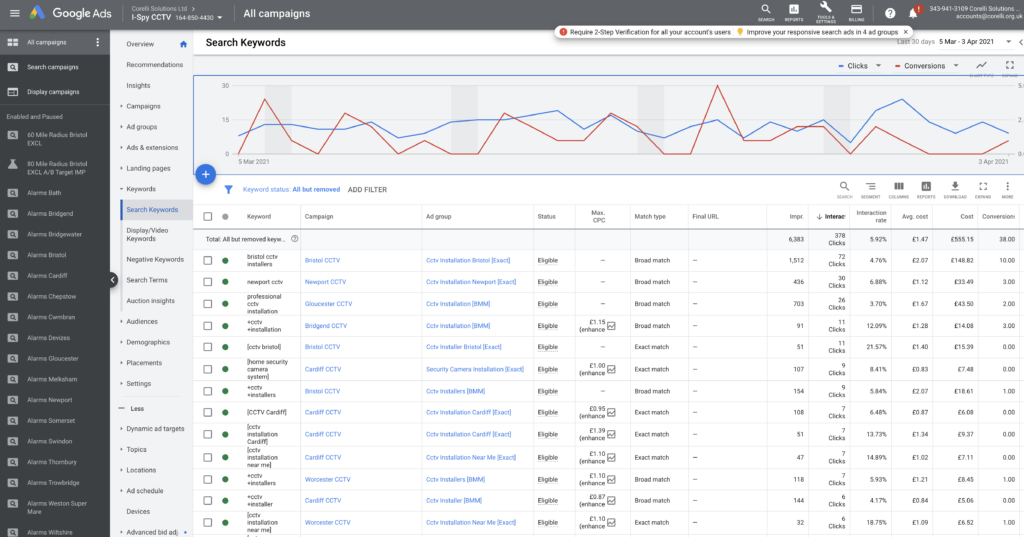 Some of our recent projects
We provide SEO consultancy from small projects for landing pages and Google Ad Campaigns through to a complete SEO Optimisation for Enterprise websites. Whatever your SEO, see if we can help.
If you think you would benefit from having a experienced SEO consultant review your website and work together to develop your ongoing SEO and marketing strategies then you should consider Steve Johnson.